Challenging Rules of Engagement
The Urgency of the Arts | School of Arts & Humanities | RCA London
Socially engaged art is a form of performance in the expanded field, and as such it must break away, at least temporarily, from self-referentiality. One is better served by gathering knowledge from a combination of the disciplines – pedagogy, theater, ethnography, anthropology and communication, among others – from which artists construct their vocabularies in different combinations depending on their interests and needs.
(Pablo Helguera, Education for Socially Engaged Art, 2011)
Ingleton & Pavlatos (2006)
Plateau_589 was a collaborative, socially engaged art project occupying a disused shopfront on a faded high street in Melbourne Australia in 2006-7. It began by placing a call for expressions of interest through MySapce and local media outlets for artists, performers, thinkers to come and interact with the site, the street, the local neighborhood. We intended the space to be one of intervention, a space for punks. Nothing to buy, nothing to sell, no opening times, no advertising, undefined. The curatorial thread, was to investigate ideas of public and publicness.
"Throughout plateau_589 we have dealt with art and culture not as a specialisation but as a social structure, with artists not as specialists, but as people who have positioned themselves within these structures in autonomous realms through which they have been granted and accept the permission to think because they identify themselves as artists. It was neither about amateur art, popular culture or community art in its guise as public art. It was not interested in either binary of the institutionalised value system of object based art. We aimed from the outset to deal with the attitude of the artist within the grammar of the multitude, or within a field of publicness."
Participating artists include Jade Walsh, Jaguar Lacroix, Richard Higgins, Bonnie Lane, Christina Tester and Ennoia Neoptolemus.
Lina Džuverović & Anne Hilde Neset (2005)
Her Noise was initiated by Lina Džuverović and Anne Hilde Neset in 2001 in the UK with an ambition to investigate music and sound histories in relation to gender, and to create a lasting resource in this area through building up an archive. In 2005 Lina and Anne co-curated Her Noise, an exhibition building on their research, which took place at South London Gallery, Tate Modern and Goethe Institut and gathered international artists who use sound to investigate social relations, inspire action or uncover hidden soundscapes. The exhibition included newly commissioned works by Kim Gordon & Jutta Koether, Emma Hedditch, Christina Kubisch, Kaffe Matthews Hayley Newman and Marina Rosenfeld, as well as a series of talks and performances.
The Her Noise Archive, as it became called, formed the backbone of Her Noise and was developed by the curators, in collaboration with Emma Hedditch and Irene Revell. Made public initially during the exhibition at South London Gallery, the archive contains the collected research materials, interview and performance footage recorded by the curators and a number of guests during the development of the project. The archive includes books, fanzines, records, CDs, catalogues and other ephemera, as well as on camera interviews with artists including Diamanda Galas, Else Marie Pade, Jutta Koether, Marina Rosenfeld, Thurston Moore, Jim ORourke, Kevin Blechdom, Kembra Pfahler, Kim Gordon, Lydia Lunch, Peaches and others.
After international touring throughout 2006 – 2008, the Her Noise Archive was donated to CRiSAP (Creative Research into Sound Arts Practice), London College of Communication. The archive now finds its permanent home in the University of the Arts, London Archives and Special Collections at London College of Communication, following a period of cataloguing by myself, in collaboration with Cathy Lane (CRiSAP) and Irene Revell (Electra).
Identifying Feminist Strategies
Her Noise: Feminisms & the Sonic
CRiSAP & Electra | Tate Modern 2012
This three-day event was an occasion to investigate feminist discourses in sound and music through a programme of talks, performances, discussions and film screenings. The programme brought together performances and a talk by Pauline Oliveros; an evening orbiting the legacy of Meredith Monk; and a day of talks and discussions with contributions from artists, musicians, curators, writers and academics. The events were realised as a collaboration between CRiSAP, Electra and Tate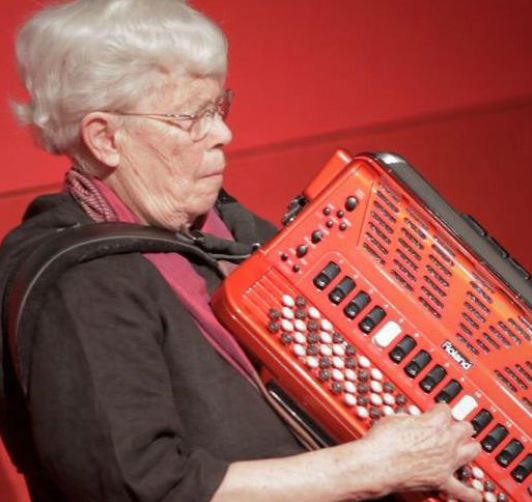 Pauline Oliveros: Listening for Life/Death Energies
Solo performance on V- Accordion
Performances: Cara Tolmie,  The end is a tumultuous noise, 2010/2012
Sue Tompkins, Sue Tompkins My Dataday, 2010/2012
Film Screenings:
Meredith Monk, 16mm Earrings, 1966/77
Sophie Macpherson Deep Dancing, 2010
 Meredith Monk Turtle Dreams, 1984
James Richards Looking So Hard At Something It Distorts Or Becomes
Obscured. (Not Blacking Out, Just Turning The Lights Off), 2012
Situating Her Noise
Salomé Voegelin (Chair)
Lina Dzuverovic: A Decade with Her Noise
Cathy Line: presencing Her Noise
Ute Meta Bauer and Fender Schrade: A_Muse
Affinities, Networks and Heroines
Georgina Born (Chair)
Sonia Boyce: Good Morning Freedom
Catherine Grant: Girls, Fans, Her Noise
Emma Hedditch:All of the actions of which I part
Vocal Folds
Anne Karpf (Chair)
Maggie Nicols
Cara Tolmie
Viv Corringham
Dissonant Futures
Anne Karpf (Chair)
Kaffe Matthews: Music for Bodies
Tara Rodgers: Dissonant Histories: Gender and Culture in the History of Synthesized Sound
Nina Power: The Dystopian Technology of the Female Voice
Musicians:
Rachel Aggs (violin), Viv Corringham (voice), Angharad Davies (violin), Sharon Gal (voice), Naomi Graham (recorder), Holly Ingleton (laptop), Caroline Kraabel (alto sax), Cathy Lane (EMS synthi), Lina Lapelyte (violin), Sarha Moore (baritone sax), Maggie Nicols (voice), Greta Pistaceci (theremin), Lucy Railton (cello), Verity Susman (tenor sax)
Conductor: Claudia Molitor
Thursday 3rd May 2012, Turbine Hall Bridge, Tate Modern, UK
Sound::Gender::Feminism::Activism was a postgraduate event that focused on the role of gender in sound-based arts and experimental musics, following on from the Her Noise: Feminisms and the Sonic symposium at Tate Modern in May 2012. The aim was to continue and expand upon dialogues and discourses related to feminism and sound, and to contribute to a growing network of researchers and practitioners working in these areas. The event bought together a range of academics, artists, musicians, engineers and music journalists invited to share their working interests and concerns.
Sound::Gender:: Feminism::Activism 2014 (SGFA14) queried the place and performance of activism within discourses and practices of sound arts, sound-based arts and experimental musics that are engaged with gender, feminist and queer politics. This two-day symposium incorporated presentations, performances and screenings from academics, musicians, artists and performers selected through a peer-review process, each taking a different approach to the question:
What, in the historical present, might constitute an activist life in sound?
SGFA::2016 sought to listen together to the complex interplay between the auditory and social protocols of White Noise. Working out from white noise's original sonic conception of a random frequency, broad-based signal that seemingly masks everything else, white noise is, increasingly, all around us. As Jennifer Stoever-Ackerman explains, white noise has become a "sonic protocol," a socio-cultural norm transmitted as an often sub-audible yet ubiquitous frequency, establishing and maintaining perceptual limits of what and who can be heard.
SGFA 2019 Tokyo was a research event investigating the context of sound in all its various creative and theoretical forms, gender and activism. The fourth installment of this regular SGFA forum took place at Chinretsukan Gallery, Tokyo University of the Arts and Untitled Gallery, Studio Space. Our aim was to share research, establishing and extending our pre-existing network of researchers and practitioners working in these areas with those working in Japan and beyond.
This SGFA zine celebrates a growing network of people working within, through and beyond the fields of sound, feminism and gender who have contributed to the SGFA events of 2012 and 2014.
With Contributions by; Alison Ballance, Amy Cunningham, Anat Ben-David, Andra McCartney & Sandra Gabriele, Ann Antidote, Annie Goh, Bonnie Jones, Christopher DeLaurenti, Claudia Firth & Lucia Farinati, Claudia Wegener, Freya Johnson Ross, Gayathri Khemadasa, INVASORIX, Iris Garrelfs, Jane Dickson, Johnny Pavlatos, Kersten Schroedinger, Laura Seddon, Marie Thompson, Mark Harris, Melanie Chilianis, Mindy Abovitz, Norah Lorway, Philip Cornett, Sarah Hardie, Sharon Gal, Siri Landgren, Tara Rodgers, Tripta Chandola, Victoria Gray and Virginia Kennard & Emi Pogoni.
Feminist Frequencies addresses the question of how socio-political differences and lived experiences of gender, sexuality, race and ethnicity may be perceived to manifest in the making of sound arts and experimental musics with a specific focus upon works made by women. Drawing upon compositions, installations and artist-archives including works by Lina Džuverovic, Anne Hilde Neset, Cathy Lane, Emma Hedditch, Sonia Boyce, Kim Gordon and Jutta Koether, Feminist Frequencies considers the different ways in which the category of "woman" has been historically silenced, erased, ignored, disqualified from and misrepresented within dominant historical sound and music histories.
1) How do gender, race and sexuality manifest in the making of works with a focus upon work made by women*?
2) Have different ideas of the category of woman been produced through sound-based arts and experimental musics?
3) How do works that examine critical differences as the medium of their creative practice in an expanded field of sound studies challenge, resist or transform dominant historical discourses of the field?
Similarly to hegemonically normative understandings of race, sex and gender whereby, historically, as Judith Butler demonstrates, gender is assumed to be determined by an a priori and stable sex and where, as Richard Dyer explains, race and gender are intertwined through a primacy of heterosexuality that reproduces race and defines gender, pitch and timbre can be appreciated as being intertwined through the notion of perfect fidelity, where perfect fidelity reproduces pitch and defines timbre.
The Devotional Collection
The Devotional Collection resonates with the Her Noise Project in that it focuses upon collective memorial strategies as a counter to forms of historical amnesia, but in regard to black British female singers, songwriters and performers. Initiated in 1999 through a collaboration program with FACT in Liverpool, lead artist Sonia Boyce was paired with the Liverpool Black Sisters to facilitate a series of workshops over a six-month period with the aim of co-producing an artwork. At the centre of the Devotional Collection is the Devotional Archive, a collection of vernacular culture by black British women in the music industry; performers, musicians, composers, singers, songwriters and deejays.
Sonia Boyce Devotional Archive | Rivington Place, Iniva 2013.
feminist composition as social event
here are some scores for you to do
ingleton & lane (london 2014)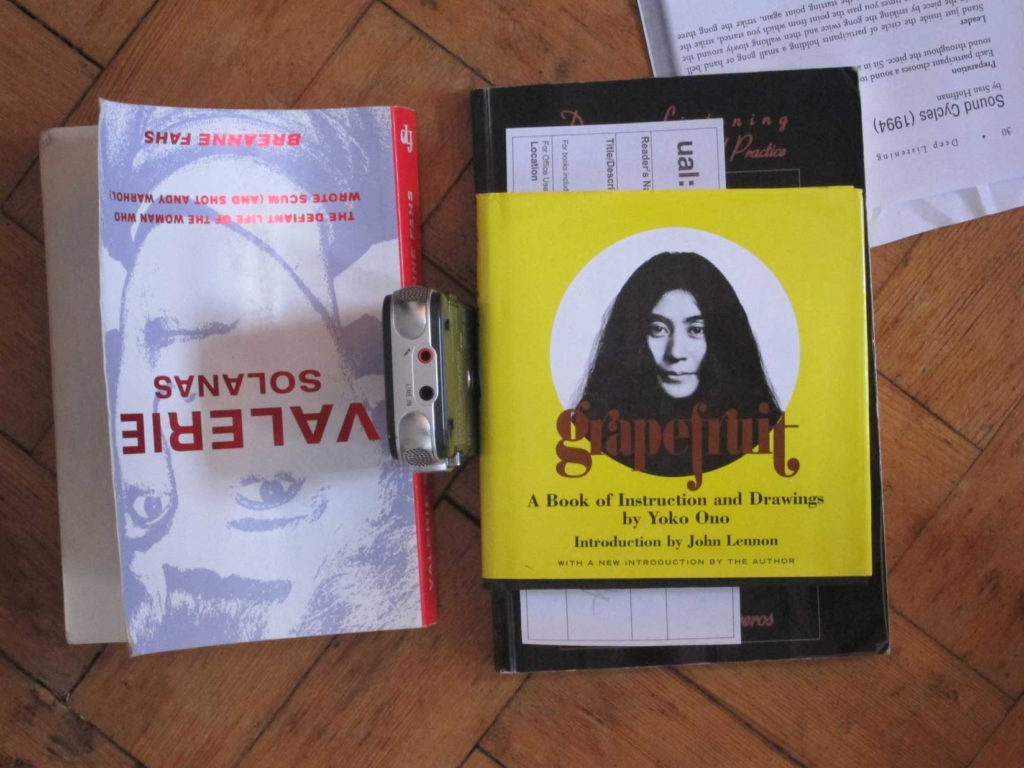 An intensive weekend-long exploration of the feminist performance score through a number of modalities including reading, listening, watching, discussion, play and performance.
Here are some scores for you to do, developed in collaboration with composer and researcher Cathy Lane and Electra with funding from Creative Vouchers / AHRC.
Saturday 27th and Sunday 28th September 2014. Electra, London UK
The avant-garde score, deriving instruction for performance from the toss of a dice, the I Ching, a series of notes or a text, can be seen as a basis for 'free' composition based upon utopian and emancipatory ideals. While the sonic results of an open work could be appreciated as 'randomly generated', 'natural' or spontaneous, in fact the outcome may be tightly regulated by the specific political economy of the compositional structure. This intensive workshop, occurring over two days, seeks to examine some of the ways in which the feminist performance score may operate through and produce alternative logics, examining the processes and outcomes that set the feminist score apart from traditional processes embedded within the avant-garde open score.
Satuday 27th September
10:45am registration
11am start: introductions with tea and coffee
'Intro to the score'; Alison Knowles, A piece for any number of vocalists
12:30 coffee break
Kim Gordon & Jutta Koether, Reverse Karaoke
Discussion
2pm lunch
Pauline Oliveros score from 'Womens Work'
3:30pm 'Womens Work'; Annea Lockwood, including Glass Concerts and Piano Transplants
5pm coffee break
Sunday 28th September
Sonic Meditation number 9 (The Greeting)
11am start
Pauline Oliveros and Deep Listening including Nike and Deep Listening scores
Screening of Pauline Boudry / Renate Lorenz, To Valerie Solanas and Marilyn Monroe, In Recognition of their Desperation and further discussion of Oliveros
Screening of Robert Ashley and Pauline Oliveros Music With Roots in the Ether / Rose Mountain, Slow Runner (1976), extracts and discussion
5pm coffee break
SCUM Manifesto; Cathy Lane, Why Oh Why
Sonic Meditation number 10
ingleton, bailey, pavlatos (2015)
our word is our bond is a collaborative performance between Ain Bailey, Johnny Pavlatos and Holly Ingleton, based upon their performance score derived from histories of colonial immigration legislation. The performance of this score engages processes of narrative performativity, further derived from queer feminist theorist Lynne Huffer's Are the Lips a Grave: A queer feminist on the ethics of sex (2013). our word is our bond emerges through a socially embedded model of reading, which by necessity, engages in and seeks to problematise the confessional scene through the demand to 'speak the truth' embedded within current discourses of nationality and citizenship.
Saturday 5th September 2015, Wysing Arts Centre, UK
our word is our bond, developed from its original staging at Wysing Arts Centre in Cambridge, was performed by Sanja Pahoki, Makiko Yamamoto and Eric Demetriou for the AS IF: Echoes from London event held at West Space in Melbourne. The event was curated and facilitated by Laura Castagnini and concluded the AS IF festival.
Saturday 7th November 2015, West Space,  Australia
ingleton & busby (London 2017)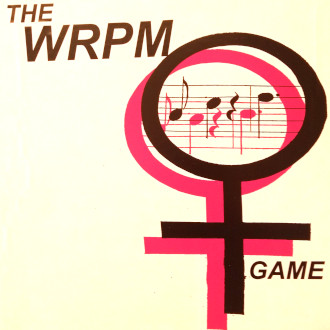 The WRPM Game developed through a residency at the Women's Revolutions Per Minute archive, housed within Goldsmiths University's Special Collection and Archives in collaboration with composer Lisa Busby.
The game, as a process by which to activate the archive, combines playing cards with a performance score for 1 pitch variable turntable, 1 pitch variable tape deck, 1 pitch variable CDJ + performers & audience.
Women's Revolutions Per Minute (WRPM) was set up in 1977 as part of the Women's Art Collective in London promoting festivals of music by women as part of the Women's Liberation Movement.
a.bailey & h.ingleton (london 2016)
Fractured Intimacies is a collaboration with sound artist Ain Bailey, commissioned for the Feeling Emotional Friday Late Spectacular at the Wellcome Collection London. Belonging To, is a soundwork composed for this commission that draws upon psychiatric and asylum records exploring the emotional traces, hesitations, intensities and manias embedded within the Wellcome Library Archives and Johanna Hedva's Sick Woman Theory.
Curated by Alice Carey & Elsa Richardson
Friday 5th February 2016, Wellcome Collection, London UK
Still Waiting Discussion Group
The Still Waiting Discussion Group is a student-focused and led research group that emerged through the shared desire to address the lack of diversity experienced on the BA Sound Arts and Design curriculum at London College of Communication, University of the Arts London in 2016.
And We'll Always Be A Disco In the Glow of Love takes Ain's own sonic biography around loss and thinking through how to sonify grief as a starting point. It asks how we might create a collective dialogue around the personal experience of dealing with death and mourning.
Gender Panic is a collaborative, socially engaged art project that started in Athens, Greece in 2018.  A group of LGBTQ+ people from differing backgrounds of dispossession came together for a project that was ostensibly about screen-printing onto t-shirts. The main impetus though, for this project, was to bring people together, to create together a shared imaginary, to make community. Together we made a short film, many t-shirts, delivered workshops and participated in local LGBTQIA+ festivals and events.  
People who have passed through Gender Panic include Puta, Cora, Barshank, Pinar, Hassan, Yasmin, Marie, Moira, Johnny, Ahmad, Lee
SharPuta is my name and the career I chose, majesty is my pronoun, I'm a heterophobic puppy that bites anyone who tries to hold my leash and feed on my audience's uncomfortableness. Depressed but well dressed, Cancerian on estrogen so emotional AF, writer & painter, dreamer & screamer. A traveller without a passport. My biggest and most proud failure is failing in "masculinity".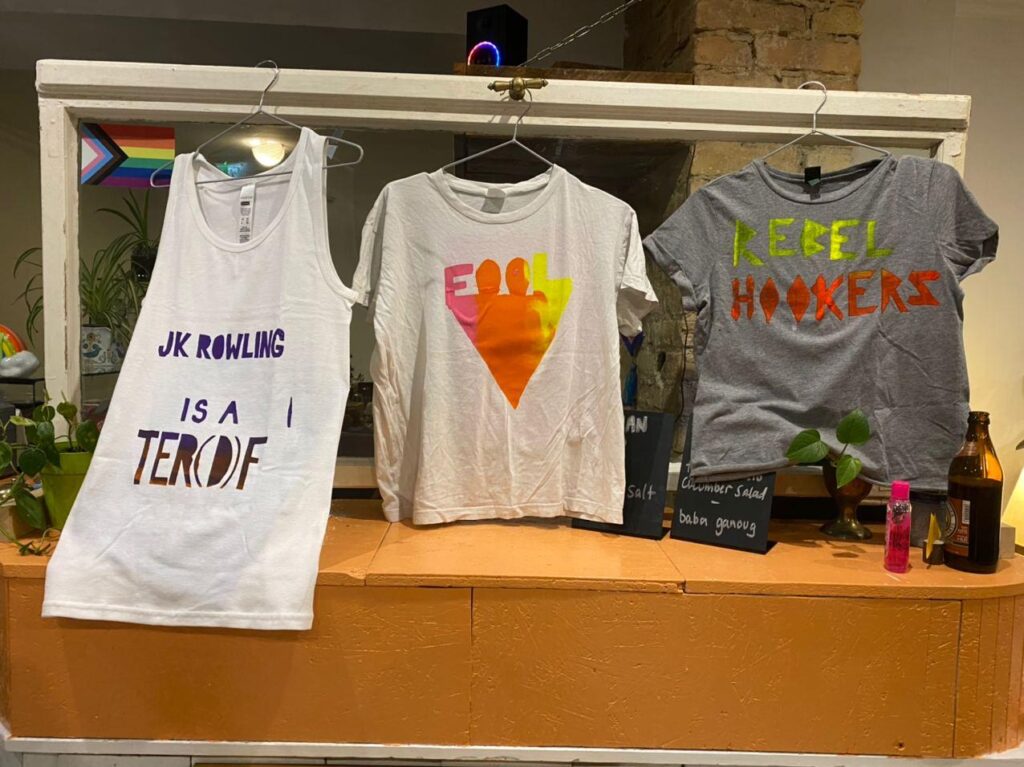 Shattered Dreams (excerpt)
Oyoun Kultur NueDenken | berlin | 2020
I come to be a card for you to use
I come for your perpetual abuse
I come for your fascism
I come for your racism
I come for your exoticism
I come to be an outcast
I come to be shot at
I come for your oppression
I come for your aggression
I come to be a threat
I come because I'm desperate
I come and I constantly regret
I come to be dehumanized
I come to be villainized
I come to be civilized
I come for your tear gas
I come without a boarding pass
I come to drown in your sea
I come because I have always dreamt of being a refugee
I come to be a deportee
I come even if you're country is not my cup of tea
I come for your new democracy
I come for your hypocrisy
I come for your bureaucracy
I come for your fucking mediocracy
The term 'Social Practice' doesn't distinguish between practices that engage the social as a medium or form and those that unfold within specific constituencies and struggles…Most concerning is the manner in which the instituitional contradictions of the art sphere are outsourced to artists who safely and temporarily bring the political into art spaces…It seems nearly impossible to positively influence or reconfigure social relations from within these settings as institutionalised imperatives contradict the core values that socially engaged artists claim to espouse. 
(Toward a Social Practice Pedagogy, The Pedagogy Group, 2018)